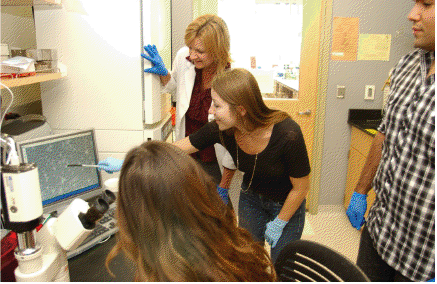 About the Lab:
The major research objectives of the Dokken Laboratory are to develop
effective treatments for coronary microvascular dysfunction associated with
the metabolic syndrome, diabetes, and underlying coronary artery disease.
Unlike obstructive coronary artery disease which can be treated with surgery
or mechanical reperfusion procedures, coronary microvascular dysfunction,
defined as defective regulation of blood flow through the small blood vessels in
the heart, causes chronic myocardial ischemia, for which there is no effective
treatment. Coronary microvascular dysfunction is most common among women,
and particularly those with the metabolic syndrome, type 1 diabetes or type 2
diabetes. The chronic angina of coronary microvascular dysfunction is frequently
so debilitating that patients who suffer from this condition are unable to work,
exercise, or enjoy life, due to pain and weakness.
Our studies seek to explain the relationship between diabetes and coronary
microvascular dysfunction, and to identify safe and effective treatments for the
disease. Using cell culture and animal models, our lab focuses on the function of
the endothelium, which is the inner lining of the blood vessels, and plays a major
role in the regulation of flow through the microcirculation.
We study cultured endothelial cells to identify molecular and cellular
influences that affect their function, particularly in relation to the metabolic
syndrome and diabetes. We also measure the function of the coronary
microcirculation in animal models in response to promising treatments, and
investigate the mechanisms behind these treatments. Ultimately, we plan to
translate our findings in endothelial cells and the coronary microcirculation
to effective treatments for patients who suffer from coronary microvascular
dysfunction.